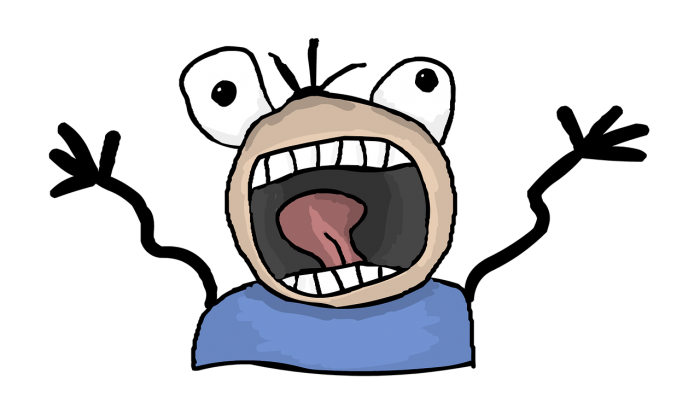 The level of panic that we witnessed on Wall Street on Wednesday was breathtaking. After a promising start to the day, the Dow Jones Industrial Average started plunging, and at the close it was down another 608 points. Since peaking at 26,951.81 on October 3rd, the Dow has now fallen 2,368 points, and all of the gains for 2018 have been completely wiped out. But things are even worse when we look at the Nasdaq. The percentage decline for the Nasdaq almost doubled the Dow's stunning plunge on Wednesday, and it has now officially entered correction territory. To say that it was a "bloodbath" for tech stocks on Wednesday would be a major understatement. Several big name tech stocks were in free fall mode as panic swept through the marketplace like wildfire. As I noted the other day, October 2018 looks a whole lot like October 2008, and many believe that the worst is yet to come.
But in the short-term we should see some sort of bounce once the current wave of panic selling is exhausted. During every major stock market crash in our history there have been days when the stock market has absolutely soared, and this crash will not be any exception.
If we do see a bounce on either Thursday or Friday, please don't assume that the crash is over. Most key technical levels have already been breached, and even a small piece of bad news can send stocks plunging once again.
On Wednesday there really wasn't anything too unusual that happened, but stocks cratered anyway. Here is a summary of the carnage…
-The Dow Jones Industrial Average plummeted 608 points on Wednesday.
-The Dow is now down 7.1 percent for the month of October.
-The S&P 500 has now fallen for 13 of the last 15 trading days.
-The S&P 500 is now down 8.9 percent for the month of October.
-A whopping 70 percent of all S&P 500 stocks are already in correction territory.
-A third of all S&P 500 stocks are already in bear market territory.
-It was the worst day for the Nasdaq since 2011.
-The Nasdaq is now down 11.7 percent for the month of October.
-At this point, the Nasdaq has officially entered correction territory.
-The Russell 2000 is now down about 15 percent from the peak as it hurtles toward bear market territory.
-Over in Germany, Deutsche Bank closed at yet another record low as it teeters on the brink of disaster.
-Global systemically important bank stocks have now fallen a total of 30 percent from the peak of the market.
Hopefully things will stabilize for a while, but many experts are warning that things could get much worse from here…
The latest swoon, which knocked the S&P 500 down more than 3 percent Wednesday, signaled to many Wall Street pros that the decline was entering a new, more dangerous phase. There's growing concern now that this decline is more than a garden variety pullback, or drop of 5 percent to 9.99 percent, and could morph into a drop of 10 percent of more for the broad market.

"With the big sell-off today, the market may have moved from pullback into correction territory," says Nick Sargen, chief economist and senior investment advisor for Fort Washington Investment Advisors.
All it is going to take is one more really bad day for the Dow to push us officially into correction territory. And once we breach that 10 percent threshold, that could set off another round of panic selling.
On Wednesday, the one piece of bad news that kind of rattled investors was the fact that new home sales plunged dramatically in September…
This is a disastrous print:

August's 629k SAAR was revised drastically lower to 585k and September printed 553k (SAAR) massively missing expectations of 625k (SAAR) – plunging to the weakest since Dec 2016…

That is a 13.2% collapse YoY – the biggest drop since May 2011
Without a doubt, a 13 percent year over year decline is catastrophic, and this is starting to remind many people of the housing crash that we witnessed back in 2008. Homebuilder stocks have been plummeting all month, and home prices are collapsing all over the nation.
In my previous article entitled "Why Are So Many People Talking About The Potential For A Stock Market Crash In October?", I noted that this has been the month with the most market volatility ever since the Dow was first established. Absent some kind of major event, the stock market usually gets kind of sleepy around Thanksgiving and does not really spring to life again until after the new year has begun.
Of course it is entirely possible that this year could be different.
We have entered a time when global events appear to be accelerating significantly. Earlier today, bombs were mailed to major political leaders all over the United States. In the Middle East, it looks like Israel and Hamas could go to war at any moment. And we continue to see a rise in major seismic events – including three very large earthquakes that just hit the Cascadia Subduction Zone.
It truly does appear that the elements for a "perfect storm" are beginning to come together. We have been enjoying a period of relative stability for so long that many Americans have allowed themselves to become lulled into a state of complacency. That is a huge mistake, because all along we have been steamrolling toward disaster, and nothing has been done to alter our course.
Dark days are ahead my friends, and I strongly urge you to get ready.
About the author: Michael Snyder is a nationally syndicated writer, media personality and political activist. He is publisher of The Most Important News and the author of four books including The Beginning Of The End and Living A Life That Really Matters.
The Last Days Warrior Summit is the premier online event of 2018 for Christians, Conservatives and Patriots. It is a premium members-only international event that will empower and equip you with the knowledge and tools that you need as global events begin to escalate dramatically. The speaker list includes Michael Snyder, Mike Adams, Dave Daubenmire, Ray Gano, Dr. Daniel Daves, Gary Kah, Justus Knight, Doug Krieger, Lyn Leahz, Laura Maxwell and many more. Full summit access will begin on October 25th, and if you would like to register for this unprecedented event you can do so right here.