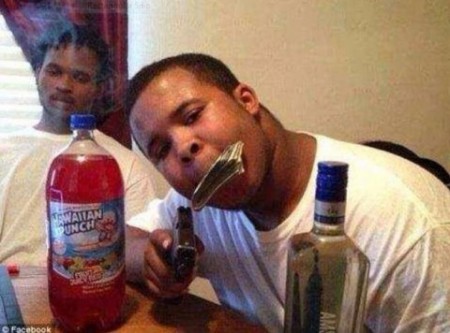 This morning we learned that Darren Wilson of the Ferguson police force is the officer who shot an unarmed Michael Brown last week, triggering riots throughout the small town of 20,000 residents.
We have yet to learn the specific details of the incident and what prompted Wilson to shoot Brown, but a slightly different picture of the teen has begun to emerge.
According to a police incident report released this morning, Michael Brown and a second individual were reportedly suspected of what police call a "strong arm" robbery of a convenience store in the area just minutes before Brown was killed. A Huffington Post reporter noted that someone fitting Brown's description stole some cigars from the store and then made their way towards the now infamous Quik Trip store.
Surveillance video from the store shows a man fitting Brown's description and wearing a white T-shirt that resembles the one Brown was wearing when he was shot by Officer Wilson.
Watch the surveillance video allegedly depicting Michael Brown physically assaulting the store clerk:
Image captures from the surveillance video show the store clerk being assaulted:
The following pictures shows Brown wearing the same hat as the individual in the surveillance video:
The following picture of Michael Brown shows him with a wad of cash in his mouth and a handgun. Though not indicative of guilt, it certainly speaks volumes when shown in the context of the surveillance footage above.
(Read the rest of the story here…)