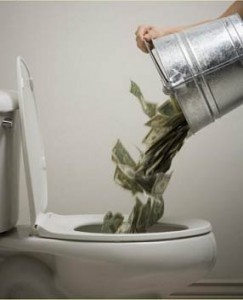 The most important news for Friday, November 27th, 2009…..
The U.S. federal government spent 3.5 trillion dollars during Barack Obama's first year in the White House.  That far exceeds the spending for any other first-year president.
The Climategate emails are sweeping America – will they scuttle Barack Obama's cap and trade scheme?
The Liberal Party in Australia is in turmoil due to the resignations of five frontbenchers in protest against the carbon emissions trading scheme.
WHO officials say that they are "not sure" if reported H1N1 swine flu mutations suggest a "fundamental change" in the virus.
Iran's Minister of Health Marzieh Vahid-Dastjerdi has announced that more than one million people have tested positive for the H1N1 swine flu virus in that nation.
A Chinese health official has announced that China has detected 8 people infected with mutated forms of the H1N1 swine flu virus.
China has seen wholesale garlic prices rocket by as much as 15-fold since March in large cities such as Beijing due to a combination of reduced acreage being planted by local farmers because of the recession – and a belief that garlic can keep away swine flu.
New figures have shown that deaths from the swine flu pandemic in England rose to their highest peak yet last week.
Over 400 schools have been closed in France as H1N1 fears spread rapidly across that nation.
Schools across Romania will be closing for seven days due to a severe outbreak of the H1N1 swine flu virus.
One mother in Canada was completely horrified by her son's physical reaction to the H1N1 swine flu vaccine.
Iranian Ambassador to Moscow Mahmoud Reza Sajjadi says that he has received assurances from Russia that the controversial missile system S-300 will be delivered to Tehran.
The Temple Institute in Jerusalem has so far spent approximately 27 million dollars on preparations for the rebuilding of the Jewish Temple.
U.S. stocks are plunging as a wave of fear is sweeping through world markets over concerns that financial trouble in Dubai will spark more world economic problems.
The financial crash of Dubai could end up being one of the most spectacular in modern history.
The Standard & Poor's/Case-Shiller home price index has risen 5% from the April low, but the index is still predicting a massive 45% fall in home prices from today's values.
The FDIC is reporting the biggest drop in business loans on record.
Congress is reportedly scrambling to write "economic jobs stimulus 3.0".
In an interview with Fox News, Sarah Palin said that she is not ruling out a run for the presidency.
In a stunning turn, Lou Dobbs has announced that he now supports amnesty for the estimated 12 million illegal immigrants living inside the United States.
More than 5000 people from 80 nations are expected to converge on Melbourne, Australia next week for the 2009 Parliament of the World's Religions, the world's largest "multifaith" gathering of religious and spiritual leaders.
Due to a severe budget shortfall, the Southern Baptist Convention's international mission agency will cut its overseas mission force by as many as 600 missionaries in 2010.
A 16-year-old Christian Sudanese girl was lashed 50 times after a Muslim judge ruled that her knee-length skirt was indecent.
Students at one high school in Massachusetts are opening theater doors today for a free performance of scenes from their upcoming musical about a bisexual father torn between his family and his "gay" lover.
In Florida, three woman and a child in bed were shot to death during a family Thanksgiving gathering.
Tribes in Kenya that lived side by side for decades say that they have been pushed to warfare by competition for disappearing water and pasture.
A creepy string of cow mutilations in southern Colorado has a rancher and sheriff's officials mystified.
Lastly, it turns out that the United States is the third fattest country in the world.