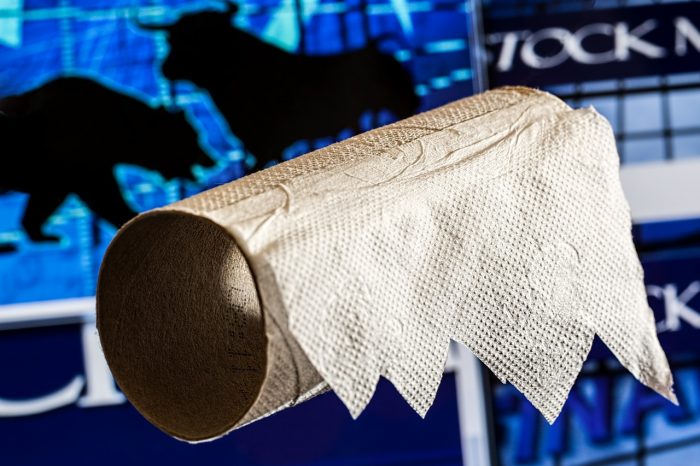 Thanks to crashing tech stocks, Americans have lost hundreds of billions of dollars in paper wealth over the past three trading days. As you will see below, we have just witnessed "the biggest market cap loss in history", and many analysts believe that this is only just the beginning. At this point, even the mainstream media is fearing the worst. CNN is boldly proclaiming that "the tech bloodbath is here", and there is a flood of mainstream articles giving advice to investors about how to ride out this crisis. But the amount of money that has already been lost is absolutely huge, and it isn't going to take much to turn this panic into a full-blown stampede. In a lot of ways, what we are watching is very reminiscent of 2001. When the original tech bubble burst, the crash was so rapid and so dramatic that many ordinary investors were not able to react in time. As I have explained so many times before, markets tend to go down a whole lot faster than they go up, and the events of the last three trading days have been completely breathtaking.
A lot of people are responding as if this tech stock crash is a complete surprise, but the truth is that it shouldn't be a surprise at all.
The only surprise is that the bubble lasted for as long as it did.
Even after the declines of the past three days, some of these tech companies still have some of the most absurd valuations that we have ever seen. There has been warning after warning that something like this could happen, but the optimists on Wall Street wanted to believe that the party would never come to an end.
Well, now the party is ending, and people are starting to understand the gravity of what we are facing. The following are 10 facts about this "tech bloodbath" that are almost too crazy to believe…
#1 The 10 leading U.S. tech companies lost an astounding 82.7 billion dollars in stock value on Monday.
#2 Overall, FANG stocks have lost 220 billion dollars in stock value over the last 3 trading days. According to Zero Hedge, that represents "the biggest market cap loss in history".
#3 Last Thursday, Facebook had the worst day for a single company in the history of the stock market.
#4 The amount of money that Facebook investors have lost is greater than the entire market value of some of the biggest corporations in America…
The gargantuan one-day loss in the social media company's market value eclipses the total value of warehouse club Costco, drug maker Bristol-Myers Squibb, investment powerhouse Goldman Sachs, defense contractor Lockheed Martin and credit-card company American Express, according to Bloomberg data.

The wealth destroyed also is more than the total value of farm equipment maker Caterpillar, home-improvement retailer Lowe's, coffee seller Starbucks and drugstore chain CVS.
#5 One prominent ETF manager is saying that he doesn't "see us being heavily invested in Facebook ever again".
#6 FANG stocks are collectively down more than 10 percent from the record high last month.
#7 The 5 most valuable companies in the United States are all in the tech sector and they are all located on a stretch between Silicon Valley and Seattle.
#8 Thanks to all of the panic, investors are being forced to pay more for Nasdaq downside protection than they ever have before.
#9 Morgan Stanley's chief U.S. equity strategist is warning that "the selling has just begun and this correction will be biggest since the one we experienced in February."
#10 One major investor has told CNBC that he believes that the major tech stocks could ultimately lose 30 or 40 percent of their value…
Ahead of Apple earnings scheduled for Tuesday evening, Larry McDonald, editor of the Bear Traps Report, warns to stay away from what has been one of the hottest areas of the market this year.

"These are stocks you want to run away from," McDonald told CNBC's "Trading Nation" on Friday. "I see potentially 30 percent to 40 percent downside on the FAANGs."
Tech stocks led the way up during the first Internet bubble, and they also led the way down.
Will the same thing happen again this time around?
If some people think that the broader market will be immune as tech stocks continue to crash, they are just deceiving themselves. To a very large extent, it has been the tech industry that has been responsible for holding the market up in these troubled times. Right now the housing industry is slowing down substantially, we are in the midst of the worst "retail apocalypse" in American history, and big agriculture is being absolutely devastated by foreign tariffs.
There aren't too many other bright spots for the U.S. economy at the moment, and so if the tech sector implodes we are going to see a lot of others go down with it.
Look, there is a reason why Mark Zuckerberg and other Facebook insiders dumped billions of dollars worth of Facebook stock in the months leading up to this crash. They all knew that trouble was brewing, and they wanted to get out while the getting out was good.
As I have told my readers so many times before, you only make money in the stock market if you get out at the right time, and those Facebook insiders picked the right time.
Earlier this month, Ron Paul warned that the stock market could be cut "in half" when the "biggest bubble in the history of mankind" finally bursts, and a lot of people laughed at him.
Are they still laughing now?
Hopefully the market will settle down tomorrow, and without a doubt we will see a bounce at some point. But it is certainly starting to feel like 2001 and 2008 all over again, but this time the bubble is far bigger than ever before.
How will this story ultimately end?
I think that we all know the answer, and it isn't going to be pretty…
Michael Snyder is a nationally syndicated writer, media personality and political activist. He is publisher of The Most Important News and the author of four books including The Beginning Of The End and Living A Life That Really Matters.