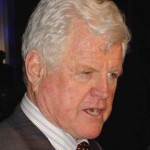 The most important news for Wednesday, August 26th, 2009…..
U.S. Senator Ted Kennedy has died of brain cancer.  He was 77 years old. 
U.S. government authorities plan to initiate a nationwide campaign in the coming weeks to persuade all Americans to take the swine flu vaccine.
The Seismologic Division of the Geophysical Institute of the Ministry of National Infrastructure in Israel will attempt to simulate an earthquake in the southern Negev on Thursday.
Is Barack Obama close to brokering an Israeli-Palestinian deal that would allow peace talks to resume?
Has the chief diversity officer of the Federal Communications Commission been heavily influenced by Saul Alinsky?
Town hall protests continue to be very heated throughout the United States.  Just check out this news report about a town hall meeting on health care down in Georgia.
International forces have suffered their bloodiest year in Afghanistan since the invasion in 2001.
The author of a shocking report on CIA interrogations during the Bush administration claims that certain operatives "lost control"once they were authorized to use enhanced interrogation techniques such as waterboarding.  The author claims that the following instances of torture took place that he is aware of: interrogators staged mock executions, they threatened to sexually assault a prisoner's mother and kill another's children, they scrubbed one inmate with a stiff brush until his legs were raw and they beat one man with a heavy torch.
Are college kids being recruited by the Obama administration to push "change" in exchange for college credit?
How sick is this?  A ten-year-old "bride" has been returned to her 80-year-old "husband" in Saudi Arabia after running away to hide at a relative's house.
The Chinese media has actually admitted that the majority of transplanted organs in China come from executed prisoners.
Was there more to the missing Russian cargo ship story than we were being told?
The World Health Organization estimates that approximately 10 percent of the 63,000 kidneys transplanted worldwide each year from living donors have been purchased illegally.
The number of Kenyans in need of food aid has jumped by over 50 percent as the terrible food and water shortages there get even more severe.
A Canadian palaeontologist believes that by manipulating chicken embryos he can create a dinosaur.
Lastly, can Vitamin D play a big role in helping one avoid the swine flu?