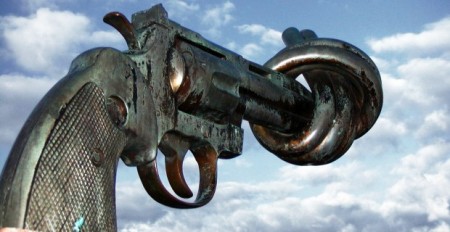 The United Nations is gearing up for gun confiscation in the event of a societal collapse in numerous countries by hiring "disarmament, demobilization and reintegration" officers who will be trained to seize guns "from the civilian population."
A posting on the United Nations Career Opportunities page announces a vacancy for the position of "Disarmament, Demobilization and Reintegration Officer" under the UN's Department of Peacekeeping Operations based out of New York.
The UN's page on DDR operations explains what role the DDR officer will be expected to undertake;
Disarmament is the collection, documentation, control and disposal of small arms, ammunition, explosives and light and heavy weapons from combatants and often from the civilian population.

Demobilization is the formal and controlled discharge of active combatants from armed forces and groups, including a phase of "reinsertion" which provides short-term assistance to ex-combatants.

Reintegration is the process by which ex-combatants acquire civilian status and gain sustainable employment and income. It is a political, social and economic process with an open time-frame, primarily taking place in communities at the local level.

The objective of the DDR process is to contribute to security and stability in post-conflict environments so that recovery and development can begin. DDR helps create an enabling environment for political and peace processes by dealing with security problem that arises when ex-combatants are trying to adjust to normal life, during the vital transition period from conflict to peace and development.
Although the posting prompted feverish speculation that the UN was about to embark on a mass gun confiscation program within the United States, it's important to note that the DDR program is only currently active in countries like the Democratic Republic of the Congo, Ivory Coast and Haiti.
However, concerns are understandable given the acceleration in anti-Second Amendment rhetoric and executive action on behalf of the Obama administration since the 2012 Sandy Hook massacre.
During a town hall event last week, Hillary Clinton asserted that gun control opponents should not be allowed to hold an opinion that "terrorizes" America.
Earlier this month, President Barack Obama also cited Australia's draconian gun confiscation program as an example to be followed by the U.S.
(Read the rest of the story here…)