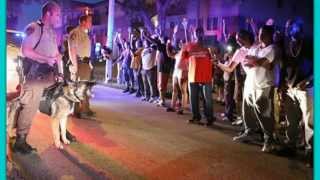 Cops pointed guns at a St. Louis official and attempted to shut down the entire town during a second night of riots in Ferguson, Missouri last night in scenes that resembled a martial law takeover, with one police officer describing the area as a "war zone."
The video, shot by Antonio French, Alderman of the 21st Ward, shows raucous protesters outside the QuickTrip store that was looted and set on fire on Monday night in response to the police shooting of 18-year-old Michael Brown.
SWAT vehicles, LRAD sound cannons, dogs, tear gas and smoke grenades are all on show as police march down the highway shooting rubber bullets at demonstrators.
The video then cuts to a parking lot where police wearing riot gear with their faces covered order French to "get the f**k out of here." One of the cops aims a gun directly at French.
According to French, police attempted to shut down the whole town in order to prevent the media from documenting events. Photographer David Carson also said that he was threatened with arrest and ordered to leave the scene.
(Read the rest of the story here…)