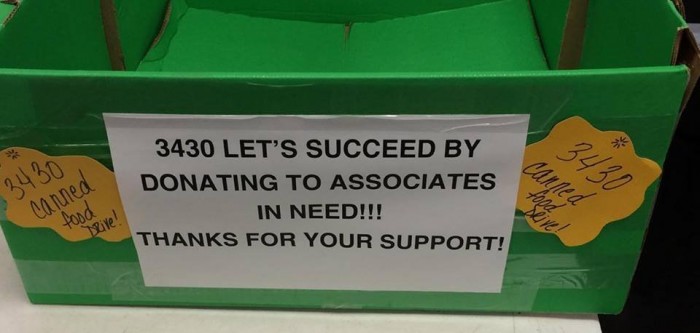 An Oklahoma Wal-Mart store is holding a food drive for its own employees, according to labor organizers.
The group Making Change At Wal-Mart posted a photo of the food drive to its Facebook page on Thursday.
The photo shows a cardboard bin with a sign attached that reads: "Let's succeed by donating to employees in need!!! Thanks for your support!" Another sign reads: "3430 canned food drive!" The number "3430" refers to the supercenter store on Northeast 23rd Street in Oklahoma City.
The photo was taken by a Wal-Mart employee who wishes to remain anonymous for fear of retaliation, according to the labor group, which has been pressuring Wal-Mart to raise its wages.
(Read the rest of the story here…)