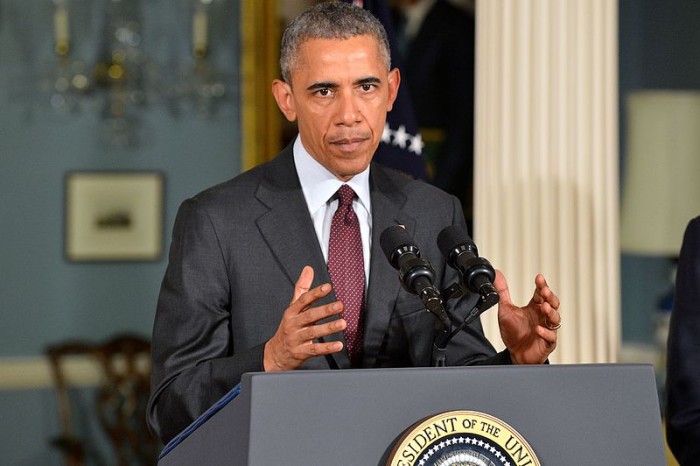 Everybody knows that what just happened in New York City was an act of Islamic terror, so why won't Barack Obama use those words?  28-year-old Afghan immigrant Ahmad Khan Rahami only had one motivation when he planted those improvised explosive devices.  He wanted to use violence to promote the cause of Islam.  All over the planet radical Islam is on the rise, and we have seen more than 1000 Islamic terror attacks worldwide so far this year.  But an extreme form of political correctness is causing many of our leaders to deny what is happening right in front of their eyes.  In fact, Barack Obama refused to use the word terrorism when talking about the attack in New York…
President Barack Obama made no mention of terrorism in his remarks on the bombings and attempted bombings in the New York City/New Jersey region over the weekend.

He also chastised the media and urged restraint when reporting about incidents that appear to be terrorist-related.

"I ask that the press try to refrain from getting out ahead of the investigation," Obama said.  "… it does not help if false reports or incomplete information is out there."
Throughout his entire presidency, Barack Obama has been extremely reluctant to link radical Islam and terror.  When he has spoken of Islam, his remarks have almost always been extremely positive.
And it is understandable why Obama would be so hesitant to say anything that could be construed to be negative about Islam.  There are people working in his administration that are Muslim, and he has a whole host of friends and relatives that are Muslim.
But to deny that Ahmad Khan Rahami had a religious motivation because it would not be politically correct to admit that he did is insane.
Of course he had a religious motivation and of course this was yet another instance of Islamic terror.
New York Mayor Bill de Blasio also initially refused to call the bombing an act of terror, and he was roundly criticized by security experts interviewed by USA Today…
Several experts including a former New York City police commissioner said Sunday the explosion that injured 29 people on a Manhattan street was clearly an act of terrorism, and they were perplexed that Mayor Bill de Blasio called it only "an intentional act."

"It is absolutely an act of terrorism. I couldn't disagree with him (de Blasio) more," Howard Safir, who was police commissioner from 1996 to 2000, said in an interview. "I think they do a disservice to the public when they try to sugar coat something that is a horrific act."
After an immense public outcry, the mayor finally broke down on Monday and decided to use the word "terror"…
At the same conference, Mayor Bill de Blasio said 'We have every reason to believe this is an act of terror' – after days of refusing to call the bombings just that.

It was later explained that authorities had to distinguish between the emotion of 'terror' felt when the Chelsea bomb detonated on Saturday, injuring 29 people, and the act of terrorism – which could not be determined until a suspect and his or her motivations had been identified.
The radical Islamists are very clear about who their enemies are and about what they want to accomplish.  If we put our heads in the sand and pretend that they don't exist, the radical Islamists are not going to stop attacking us.  Instead, they will just rapidly get the upper hand.
Barack Obama and his politically correct friends want to see the world a certain way.  They believe what they want to believe.  But the truth is that radical Islam is a rapidly growing evil, and virtually every nation on the planet is now starting to feel the pain.  Just consider an incident which just took place underneath the Eiffel Tower…
Three illegal immigrants were in custody in Paris today after a teenager was found tied up and gagged after allegedly being gang raped underneath the Eiffel Tower.

The horrifying attack took place after the 19-year-old was lured on a Facebook 'date' in the French capital.

She responded to messages from who she thought was a 17-year-old Tunisian boy and initially met him close to her home in the Paris suburbs.

But last Sunday night she turned up at the Champs des Mars, the public park where the Eiffel Tower is situated, and was attacked.
It isn't wrong to question an immigration policy that has been importing thousands upon thousands of people from areas of the world where radical Islam is dominant.  The decisions that our government makes have consequences, and we just saw an example of this in Minnesota.  The man that started viciously attacking people with a knife in a Macy's Department store was a radical Islamist that originally came to the U.S. from Somalia, and it turns out that since 9/11 more Somali refugees have been resettled in Minnesota than anywhere else in the nation…
Almost 100,000 Somali refugees have been resettled in the United States since 9/11, including 8,619 so far during the current fiscal year. The largest number – some 16 percent of the total over the past 15 years – have been resettled in Minnesota, home to the nation's biggest Somali-American community.
Unfortunately, our leaders have not learned anything from their past mistakes.  Barack Obama plans to dramatically increase the number of Syrian refugees coming into this country in 2017, and Hillary Clinton is on record saying that she wants to raise the number to 65,000 per year…
The Obama administration, meanwhile, wants to boost the total number of refugees to the U.S. next year to 110,000, a nearly 30 percent increase. Clinton specifically wants to increase the number of Syrian refugee admissions from 10,000 to 65,000.
As I have discussed previously, 98.33 percent of the Syrian refugees that have been brought in so far are Sunni Muslims, and surveys have found that a significant percentage of Sunni refugees are sympathetic to ISIS.
Barack Obama always promised to fundamentally change America, and he appears to be trying to keep that promise.
Let us just hope that the amount of damage that he does to our country over the remaining months of his term will be minimized somehow.
*About the author: Michael Snyder is the founder and publisher of The Economic Collapse Blog and End Of The American Dream. Michael's controversial new book about Bible prophecy entitled "The Rapture Verdict" is available in paperback and for the Kindle on Amazon.com.*