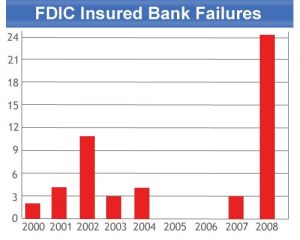 The most important news for Monday, September 7th, 2009…..
Five more U.S. banks have failed, which brings the total of failed banks in the U.S. to 89 so far in 2009.
A top Chinese official is saying that the U.S. Federal Reserve's policy of printing money to buy Treasury debt threatens to cause a serious decline of the dollar and compel China to reconsider its foreign reserve policy.
New rules adopted by the G20 are sparking fears that there will be more bank bailouts around the globe.
The German government's climate protection adviser is proposing the creation of a CO2 budget for every single person on the planet.
On Sunday, leading central bank governors said that they had agreed on a package of measures to "strengthen" the global supervision of the banking industry.  Who ever voted to put them in charge anyway?
Was the cargo ship that was hijacked and disappeared in the Arctic Sea carrying S-300 missiles bound for Iran?
The U.S. is racing to get millions of swine flu doses ready.  But will they be safe?
Debka is reporting that Iran is edging closer to being able to produce its first nuclear weapon.
In addition, Iran said on Sunday that it has developed weapons systems that are able to intercept stealth cruise missiles.
A Russian newspaper is claiming that Russia has agreed to sell powerful MiG fighter jets to Syria but has not yet begun delivering the planes.
Is this crippling economic crisis turning America increasingly into a two-tiered society?
The water shortage in Mexico has turned dire as that nation wrestels with its worst drought in more than half a century.
Is the U.S. building a "mini-Pentagon" in Islamabad?
The largest crop circle ever discovered has been found in a corn field in the U.K.
A stunning UFO was filmed by Chinese scientists for 40 minutes during a solar eclipse.
The chief executive of a major children's charity says that we need to take babies away from "bad families" at birth: "If we really cared about the interests of the child, we would take children away as babies and put them into permanent adoptive families, where we know they will have the best possible outcome."
Child sacrifice and ritual murders are on the rise in Uganda.
The H3N8 dog flu has shown up in more than 30 states and it is starting to spread like wildfire.
Family members said this week that Iowa high school officials forced five teenage girls to remove their clothes during an investigation into a theft.
Lastly, a Sudanese judge fined a woman journalist $200 on Monday for violating the public indecency law by wearing pants outdoors.