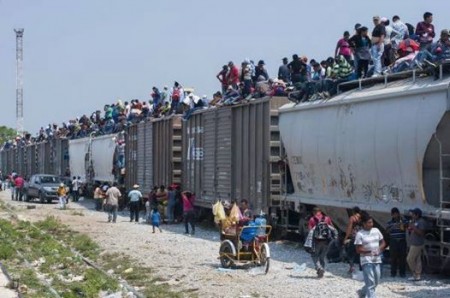 This is 'La Bestia' – or 'The Beast' – which is perhaps the most treacherous train in the world.
It is not built to carry passengers, but that doesn't stop about 1,500 migrants piling on board the freight train's roof every day.
They are trying to reach the Mexico-U.S. border to start a new life in America. Most are refugees fleeing endemic violence in Central America. But they face a terrifying journey ahead of them.
For years Mexico's notorious drug gangs have been in control of the route, charging $100 (£64) or more for permission to mount the train.
Threats, attacks and extortion continue en route after it departs from Arriaga, in Mexico's southern Chiapas state, around 160 miles north of the Guatemala border.
(Read the rest of the story here…)