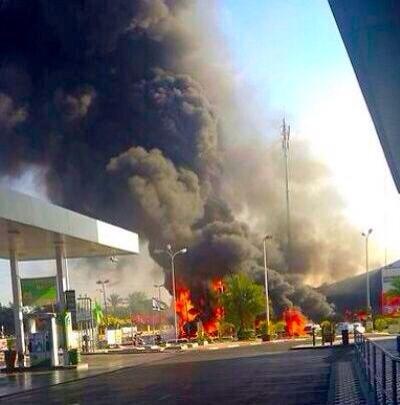 At least 100 Palestinians and 13 Israeli soldiers were killed on Sunday with Hamas claiming it had captured another, as Israel ramped up a major military offensive in Gaza.
The United Nations Security Council was set to hold an emergency meeting on the Gaza situation at 0130 GMT Monday, following a call by Palestinian president Mahmud Abbas, as regional leaders met in Doha for urgent ceasefire talks.
The Palestinian death toll soared to 438 in the bloodiest single day in Gaza in five years, with a spokesman for the enclave's emergency services saying more than a third of the victims were women and children.
(Read the rest of the story here…)
As of Saturday night, the IDF has uncovered 34 terror tunnels, including 5 which extend from Gaza far into Israel, the IDF Spokesperson's Office announced Saturday night.
The tunnels have been neutralized and are in the process of being destroyed, it said.
Seventy terrorists have been killed – including 20 on Saturday alone – and an addition 13 were taken into Israeli custody for questioning after surrendering on Friday.
The IDF has attacked more than 450 terrorist targets since the ground offensive was launched.
(Read the rest of the story here…)
As sirens wailed Saturday evening in southern and central Israel, a barrage of rockets hit Israel, mostly in open areas, as the Iron Dome anti-rocket system intercepted multiple rockets over major cities.
As of 8 p.m., air raid sirens were sounding in Beersheba, as a Rocket was intercepted. Several more landed in open areas. Two other rockets intercepted over Kiryat Gat while others fell outside the city.
Earlier in the evening, the Iron Dome defense system intercepted a rocket. Another rocket hit an open area in the city, sparking a fire. Police and fire-fighting units are oat the scene.
In the south, two rickets landed in open fields in the Eshkol Regional Council. The Iron Dome intercepted three rockets over Beersheba and one over Ashkelon.
Twenty-nine Israelis were wounded in rocket attacks over the weekend, including a 30-year-old man killed in a Beduin area near Dimona on Saturday, Magen David Adom paramedics said Saturday afternoon.
(Read the rest of the story here…)