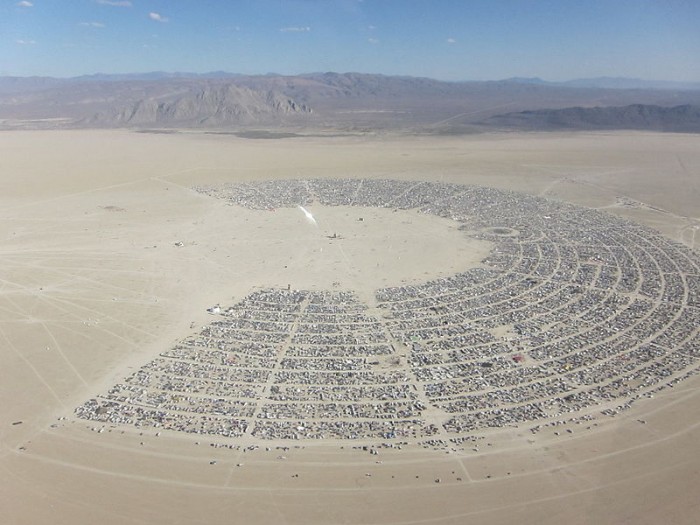 70,000 people have descended upon a very bleak stretch of Nevada's Black Rock Desert for what is perhaps the largest celebration of hedonism on the entire planet.  Burning Man has been described as a "dystopian hellscape", and that description is not too far from the truth.  From August 25th to September 5th (Labor Day Monday), revelers from all over the world will dance, carouse and "express themselves" in a temporary city that has been created entirely by its citizens.  This festival is part Mad Max, part Woodstock and part Eyes Wide Shut, and many "Burners" look forward all year long to these eight days of completely unrestrained hedonism.
30 years ago, Burning Man began as a small beach gathering in San Francisco.  Initially held during the Summer Solstice, it quickly took on a life of its own and was moved to Nevada in 1990.  Ever since then, this eight day party has not stopped growing, and people literally fly in from all over the world to witness one of the most bizarre spectacles in America.
To say that Burning Man is "weird" would not be doing it justice.  In this very isolated corner of the Black Rock Desert, you will find nudists (lots of them), palm readers, neopagans, "ecosexuals", witches, sorcerers, shamans, New Age gurus, "goddesses", Satanists, "polyamorists" and just about every type of fetishist that you can possibly imagine.
The reason why the festival is called "Burning Man" is because of the gigantic effigy that is burned toward the end of the eight day celebration.  Nobody is physically harmed during the burning of this enormous "wicker man", but it does seem to parallel the human sacrifices that the Druids would do in ancient times.  The following comes from Wikipedia…
While other Roman writers of the time, such as Cicero, Suetonius, Lucan, Tacitus and Pliny the Elder, described human sacrifice among the Celts, only Caesar and the geographer Strabo mention the wicker man as one of many ways the Druids of Gaul performed sacrifices.[6] Caesar reports that some of the Gauls built the effigies out of sticks and placed living men inside, then set them on fire to pay tribute to the gods. Caesar writes that though the Druids generally used those found guilty of crimes deserving death, as they pleased the gods more, they sometimes used slaves and innocent men when no delinquents could be found.[7]
And even today, the burning of "wicker men" is very much associated with neopaganism.  Here is more from that same Wikipedia article…
Wicker men are set ablaze during some neopagan festivities. A female effigy of wicker or other materials is burnt at the stake for the annual Danish celebration of Sankt Hans aften (Saint John's Eve). Typically, Celtic neopagans, Neo-druids, are those who use such a motif in their festivities because they, unlike other neopagan groups, are either inspired by, or follow a reconstructed form of, Celtic paganism . At other times, neopagans do not burn wicker men, but keep them as idols for protection, often merging them with the Green Man. Neopagan wicker men range from life sized to huge, humanoid, temporary sculptures that are set ablaze during a celebration, usually toward the end of the event. They are constructed with a wooden frame that is woven with flexible sticks such as willow often used in wicker furniture and fencing. Some wicker men are extremely complex and require days of construction.[9]
Of course the organizers of Burning Man strongly deny that it is an overtly occult festival, but it is undeniable that thousands upon thousands of occultists from all over the planet are drawn to this celebration each year.
However, there are many others that go to Burning Man just for the sex, drugs and techno music.
During these eight days people openly and freely use illegal drugs, and the authorities don't seem to mind.  Public nudity is also constantly on display, but once again law enforcement is nowhere to be found.  Actually, if they are there it is usually to participate in the debauchery.
The biggest draw of all, however, is the casual sex that is absolutely rampant at Burning Man.  And it isn't just one on one sex that we are talking about.  That would be way too boring.  This is how the Daily Mail described what goes on during these eight days…
Sex between 'Burners', as festival-goers are known, is known variously as 'dust love' or 'tent trysts', and old hands suggest it is simply 'selfish' to stick to monogamy. Public nudity, especially by women, is actively encouraged, while orgies — or at the very least partner swapping, if not threesomes — have become just as much a feature of Burning Man as the ceremonial torching of a huge wooden effigy of a man to celebrate the summer solstice.

Group sex is actively encouraged at so-called 'theme camps' — giant tent complexes where free bars encourage visitors to loosen up and participate. A popular venue is the so-called 'Orgy Dome', run by a group calling itself And Then There's Only Love, though conventional notions of love are hardly what's fostered inside its giant dome tent.
If the "Orgy Dome" is not your style, there are definitely other kinky activities available…
The Orgy Dome is hardly alone. There is also a 'Group Sex Bus', the 'Sex Libido Lounge', and a Canadian-run club with an unprintable name where judges give points to amorous couples for 'style' and 'inventive poses'.
To some of you reading this article, this may sound like paradise.
In fact, some of you might be thinking that you may want to attend Burning Man next year.
But the truth is that there is such an emptiness to this kind of reckless animal behavior.  People "let loose" to try to give meaning to their otherwise meaningless lives, but any pleasures that are enjoyed are quite fleeting.  In the end, many participants return to their "normal lives" feeling even emptier than before.  This is how an editorial in the New York Post put it…
Sure, it looks fun to spend a few days enjoying a gift economy, listening to techno, cooling off in refrigeration trucks and gawking at surreal sculptures or taking in offbeat performance art. But, according to Daniel Yudkin, a social psychology Ph.D. candidate at New York University, as reported by Quartz, the eight days of decadent hedonism provide once-a-year opportunities for attendees to experience bona fide connections with others. All the other non-Burning days of their lives? Not so much.

Rather than reflecting how much fun Burning Man is, the reality of people spending thousands of dollars — on travel, accommodations, tickets and drugs — serves as proof that their non-Burner days are pathetically empty. "I think the fact that people invest so much of their own resources and time and energy to going to Burning Man suggests that there's something missing, that there's something Burning Man fulfills for them that they don't get in day-to-day life," Yudkin says.
Ultimately, the truth is that you are not going to find meaning in life through sex, drugs, public nudity, weird art and loud techno music.
You can try every pleasure under the sun, but it is still not going to fill that hole that you feel deep inside of you.
In America today, there is a greater spiritual void than ever before.  People are searching for meaning and purpose in all sorts of places and not finding it.
Unfortunately, I think that this helps to explain the popularity of Burning Man.  Multitudes of Americans are deeply dissatisfied with their regular lives, and they are searching for something real.
Sadly, the revelers at Burning Man are not going to find anything real to soothe their aching hearts.  Instead, they will only find more pain, more frustration and more emptiness.