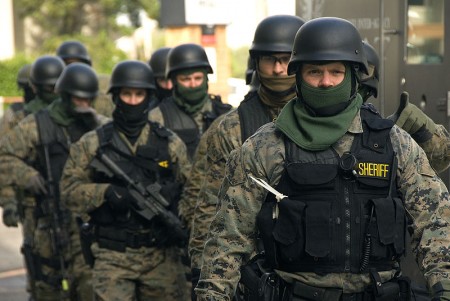 Officials in Georgia's Habersham County are refusing to pay for the mounting medical expenses of a toddler seriously injured by a flash grenade after a failed SWAT team raid earlier this year.
Bounkham 'Bou Bou' Phonesavanh was just 19 months old when a Habersham SWAT team initiated a no-knock warrant at his family's home at around 3 a.m. on May 28. Bou Bou was asleep in his crib at the time, surrounded by his family and three sisters. The toddler was severely injured when SWAT team officers broke through the house's door and threw a flashbang grenade that ultimately landed in the Bou Bou's crib.
When the stun grenade went off, it caused severe burns on the child and opened a gash in his chest. As a result, Bou Bou lost the ability to breathe on his own and was left in a medically induced coma for days after the incident. His extensive recovery necessitated stays in two hospitals before he finally went home in July.
Now, Habersham County officials are sticking by their decision to ignore the family's plight, the family's attorney, Muwali Davis, told WSB-TV.
(Read the rest of the story here…)