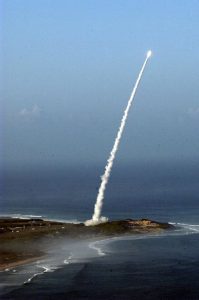 The most important news for Friday, September 18th, 2009…..
The New York Times is reporting that Barack Obama sent a secret letter to Russia's president last month offering to back off deploying a new missile defense system in Eastern Europe if Moscow would help stop Iran from developing long-range weapons.
Vladimir Putin has announced that he now expects the United States to back a joint bid by Russia, Belarus and Kazakhstan to join the WTO.
Russia has announced that they plan to help Cuba modernize their weaponry and train their military. 
A shocking leaked report has revealed that the U.N. nuclear inspection agency believes that Iran has "sufficient information" to make a nuclear weapon and has "probably tested" a key component.
House Republicans are vigorously denouncing Speaker Nancy Pelosi's comments that appeared to question whether today's angry conservative protests are similar to anti-gay rallies in the late 1970s that preceded the assassination of two San Francisco political leaders.
The Washington Times is reporting that Obama said this week that his health care plan won't cover illegal immigrants, but that he also argued that's all the more reason to legalize them and ensure they eventually do get health care coverage.
Australia has formally approved a swine flu vaccine and says that it will start administering the vaccine this month to its most "at-risk" citizens, including medical staff, pregnant women and the chronically ill.
The World Health Organization says that production of H1N1 swine flu vaccines over the next year will be "substantially less" than the 4.9 billion doses previously forecast.
Scientists in the U.K. are warning that a "deadly second wave" of the swine flu is on the way.
Bill Gates is donating even more of his money for research on experimental genetic modification and vaccine research.
Public schools and colleges across the United States are experiencing an early and robust flu season thanks to the H1N1 swine flu virus.
Authorities in the Phoenix area are searching for a Palo Verde Nuclear Power Plant engineer who has been missing since Saturday evening.
Agriculture Secretary Tom Vilsack is admitting that his policies are influenced by the Council on Foreign Relations.
The incomes of young American adults have experienced an 8 year nose dive.
The Health Ranger is asking this question: "Why are so many celebrities dying after chemotherapy?"
VW has unveiled a two-seater that gets 180 miles per gallon.
4 million Kenyans are on food aid as the drought deepens over there.
Are there occult themes in Beyonce's "Sweet Dreams" video?
A Missouri veteran injured by a vaccine has been ruled ineligible to receive benefits.
75 percent of Oklahoma high school students cannot name the first president of the United States.
The Texas State Board of Education has decided to replace Christmas and Rosh Hashanah with the Hindu holiday of Diwali in its review of religious holidays.
Lastly, a man who roasted his pet dog to enjoy as a meal with his family and friends has escaped prosecution after authorities in New Zealand determined that the dog was "killed humanely".