Israeli Prime Minister Benjamin Netanyahu on Thursday instructed the military to begin a ground offensive in Gaza, an official statement from his office said.
Reuters witnesses and Gaza residents reported heavy artillery and naval shelling and helicopter fire along the Gaza border.
"The prime minister and defense minister have instructed the IDF (Israel Defence Force) to begin a ground operation tonight in order to hit the terror tunnels from Gaza into Israel," the statement said.
Israel and Palestinian militants in the densely populated enclave have been fighting a cross border war for 10 days.
The Israeli military says Gaza militants have fired more than 1,300 rockets into Israel.
(Read the rest of the story here…)
The Prime Minister's Office has issued a statement that says the IDF has embarked on a ground assault into Gaza against Hamas's tunnels.
The operation is deemed as "limited" and will probably not go further than two or three kilometers into Gaza's territory. This is deemed to be deep enough in enemy land to find the openings into Hamas's attack tunnels, like the one that was used in Thursday morning's infiltration into Israel by 13 terrorists.
Large forces from the IDF's infantry, armor, artillery, engineering and intelligence corps are operating in several zones within Gaza after breaching the security fence that separates it from Israel, in coordination with the Israel Security Agency (ISA, or Shin Bet) and with support from the air and naval forces. The zones are in Gaza's northern, central and southern sections. The Diplomacy and Security Cabinet has authorized the IDF to widen the operation further at its discretion.
Egypt, meanwhile, has issued a statement saying that Hamas is to blame for the possible deaths of hundreds of Gazan civilians. The statement appears to have purposely been issued simultaneously with the statement from the Israeli Prime Minister's Office.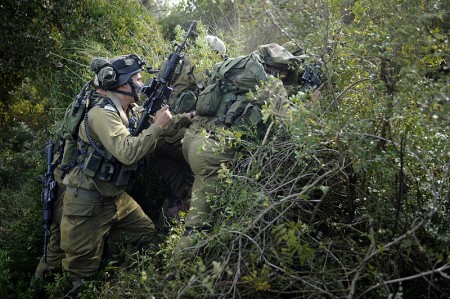 (Read the rest of the story here…)
Osama Hamdan, who is in charge of foreign affairs in Hamas, has presented an uncompromising stance regarding the war against Israel.
In the course of the meal breaking the daily Ramadan fast, Hamdan said that Hamas can hold on for many months, and that it is manufacturing a new missile for every one that is fired at Israel, and has additional "surprises" in store. All of Hamas's rockets are locally manufactured, he said, except for the Grad Katyushas which were brought from Libya.
Hamdan described the Egyptian mediation as an attempt that reflects the mentality of the period of "Arab defeats," but said that the Palestinian nation today will only agree to "the mentality of the generation that seeks freedom and refuses to be humiliated."
While the entire world intervenes to try and save Israel and stop the war, said Hamdan, Hamas is steadfast in its position, that the fire must only cease in accordance under the conditions it sets, and that the enemy must either heed these conditions or face continued missile strikes.
(Read the rest of the story here…)