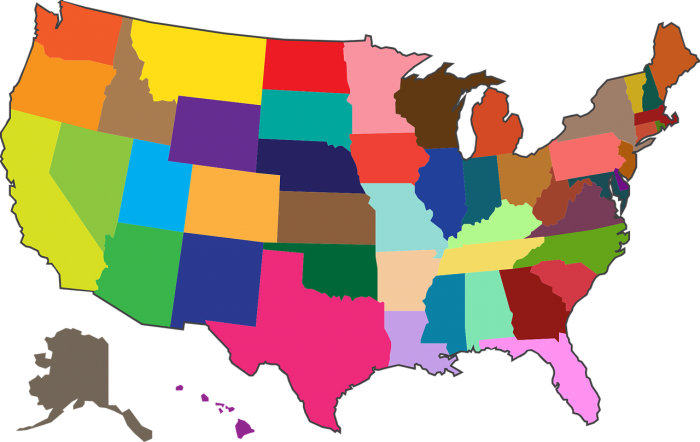 We live at a time when Americans are packing up and moving with increasing frequency.  Some are moving for new opportunities, some are moving in anticipation of what is coming, and others are moving just because they are bored.  As the publisher of The Economic Collapse Blog and The Most Important News, I am frequently asked to give my opinion about a potential move.  Of course I often don't know what to say, because often factors that I don't fully understand are involved in the decision.  For example, someone may be moving somewhere truly horrible for a wonderful new job, or complex family relationships are precipitating a move.  But there are some general principles that I share with people, and I will be sharing some of them with you in this article.
If you do a Google search, you will find that most lists of "best places to live" focus on major cities, but often the best place to live within a certain geographic area is far away from a major population center.  And obviously my choices have a lot more to do with quality of life and sustainability during the coming crisis years than with things like "employment opportunities" or "entertainment options".
With all that being said, here are my choices for the best places to live in all 50 U.S. states…
Alabama – The coast is always tempting if you like the water, but we have all seen what hurricanes have done to the area around Mobile.  If I had to choose some place to live in the state, I think that I would focus up north near the Tennessee border.  There are more fresh water resources up north, and the Huntsville economy has been doing relatively well in recent years.
Alaska – I have always had a fondness for Juneau, but would probably rule it out for practical reasons.  It is quite isolated and it is way too close to the water.  In the years to come it will pay to be away from the ocean and from the major volcanoes, and so somewhere around Anchorage would probably be my choice.
Arizona – Even though my good friend John Shorey may disagree, I actually don't like Arizona much at all.  Phoenix is way too overcrowded, Tucson is way too hot, and Sedona is way too crazy.  If I had to live in Arizona, I would definitely find somewhere with water, because water resources are going to be at a premium during the years ahead.
Arkansas – Even though Wal-Mart is headquartered there, northwest Arkansas is a lovely area.  Once you get away from Fayetteville there are lots of open areas, and fresh water is fairly abundant.  Crime is relatively low, but there is some around.  The key is to find a good community.
California – Unless you must do so for work or you feel directly called by God to go there, it is probably not a good idea to move to California.  If I had to choose anywhere in the state, it would probably be the far northern area away from the coast.  For much more on why you shouldn't move to California, please see my recent article entitled "Why Are So Many People Moving Out Of California?"
Colorado – Many years ago I considered a move to Colorado, and I am so glad that I was talked out of it.  The quality of life in the Denver area is continually deteriorating, and more people just keep on moving in from other states.  I am told that Colorado Springs and Fort Collins are still fairly nice, but I wouldn't be eager to move to either location.  If you must go to Colorado, try to find somewhere rural that has easy access to fresh water.
Connecticut – I actually applied to go to law school at Yale, but I was turned down.  I really would have loved to live up there, although I hear that New Haven is riddled with crime.  Considering the times that we are moving into, I would try to get inland as far as possible, and so I would probably look at any of the small towns north of Hartford.
Delaware – It is right along the ocean, it is riddled with crime, and it is best known for producing Joe Biden.  You probably do not want to move to Delaware if you can avoid it.
Florida – After being rejected by Yale, I was accepted by the University of Florida law school and I had four wonderful years there.  So I have to admit that I am partial to Gainesville, although there are some wonderful places in the panhandle as well.  Unfortunately for Florida, most of the state is either below, at or just above sea level, and that means that it is extremely vulnerable to potential tsunamis.  And crime has become a growing problem in the urban areas, and so that is a major factor to look at when considering a move into the Sunshine State.
Georgia – In Georgia you will want to stay far away from the madhouse that Atlanta has become, and you will want to stay far away from the Atlantic Ocean.  It would be tempting to look at Augusta, but I would probably choose one of the small towns near the northern border.
Hawaii – I think that nearly all of us have dreamed of living in Hawaii at one point or another.  Unfortunately, these are volcanic islands in the middle of the Pacific Ocean, and one of them is erupting right now.  So while it might be tempting to consider a move to Hawaii, for practical reasons you should probably cross it off the list.
Idaho – People up here tend to get upset when I encourage my readers to consider coming to Idaho.  But of course there are good areas of Idaho and there are bad areas of Idaho, and more crazy people from liberal states such as California move in with each passing day.  If you want relatively moderate weather, stunning scenery, low crime and a low population density, I would commend north Idaho.  Unfortunately there are not many employment opportunities up here, and so don't count on finding a good job after you move.  You will want to have your source of income squared away before you arrive.
Illinois – You can probably guess what I am going to say.  Chicago has become one of the most violent cities in North America, and that is really saying something considering what is going on in Mexico right now.  Today, approximately 125,000 gang members live in the city of Chicago, and they outnumber the police by more than 10 to 1.  If you must live in Illinois, you probably want to stay as far away from Chicago as you can.
Indiana – In general, the further south you go in the state the better.  Fort Wayne and Gary are hellholes, Indianapolis is better, and the small towns that stretch across southern Indiana are probably the best choices of all in the state.  I would avoid Evansville and focus more on the eastern part of the state, but the truth is that the whole region is in potential earthquake territory.
Iowa – Iowa is actually very nice.  It is flat, it is cold, and there are way too many crazy liberals there, but other than that it is quite nice.  I would probably avoid Des Moines and focus on finding a rural community with easy access to fresh water.
Kansas – Kansas is nice too, but the big problem in Kansas is not enough rain.  The current drought is getting really bad, and it looks like Dust Bowl conditions are rapidly returning to the state.  So for that reason alone, I would probably avoid Kansas.
Kentucky – Beautiful scenery, but it is hard to ignore the crushing poverty and the out of control opioid crisis.  If I was moving to Kentucky, I would focus on the far eastern portion of the state so that I could get as far away from the New Madrid fault zone as possible.
Louisiana – They have good food, but they are also a potential epicenter for natural disasters in the years ahead.  We all saw what Hurricane Katrina did to New Orleans, the Mississippi River is prone to major flooding, and one day the state is going to be on the receiving end of the aftermath of a massive New Madrid earthquake.  So it is probably not a state that would be high on my list of places to live.
Maine – Thanks to very liberal immigration policies, the character of towns all along the Maine coast has greatly changed in recent years.  There are still some towns up north that are very nice, but be prepared if you move to one of them, because it gets bitterly, bitterly cold in the winter.
Maryland – Much of western Maryland is actually very, very lovely, but not much else good can be said for the rest of the state.  If you must live in Maryland, you will want to stay far away from the shore, far away from Washington D.C. and you certainly won't want to be anywhere near the drug-infested hellhole that is called Baltimore.  So that doesn't leave much else except for western Maryland, but like I said, western Maryland is actually very, very lovely.
Massachusetts – If John Adams could see us now he would be absolutely horrified by what we have done to his state.  If I had to choose somewhere to live, I would focus on the small towns west of Interstate 91.  They tend to be a bit less liberal than the rest of the state, but I wouldn't count on meeting too many true conservatives there either.
Michigan – If I had to live in Michigan, the choice would be easy.  I would definitely focus my search on the upper peninsula, because I would want to be as far away from Detroit, Flint and the other major population centers as possible.  In reality, the upper peninsula of Michigan is much more like Wisconsin than Michigan, and that is a good thing.  But if you move there you will need to prepare for some of the most bitter winters that you have ever encountered.
Minnesota – Speaking of bitter winters, Minnesota can be a very tough place to live.  Both of my parents were born in Minnesota, and I have been there many times.  Coming from Scandinavian roots, the bitter winters didn't bother my parents too much, but they never passed that trait on to me.  If you can survive the winters, the giant mosquitos and the machete-wielding terrorists, you will probably do okay.  There are plenty of small, rural communities scattered throughout the state, and plenty of fresh water.
Mississippi – If you can find somewhere in the state away from the coast, away from the Mississippi and that isn't being crushed by rising poverty and rising crime, you will probably do okay for a while.  But once again, I am deeply concerned about how this state will do when the New Madrid fault finally rips wide open.
Missouri – One of the worst cities in the entire country (St. Louis) dominates the eastern part of the state, the western part of the state is going to be deeply affected by the ongoing drought out west, but I actually love the southern part of the state.  I really love Branson and the surrounding areas, and I just wish that it wasn't so close to the New Madrid fault zone.
Montana – There are a lot of people moving to Montana, and many of them don't seem to be able to handle the bitter cold during the winter that well.  Western Montana is definitely superior to eastern Montana, but the entire state features a low population density and plenty of fresh water resources.
Nebraska – For the Democrats, this is "flyover country", but the truth is that it is part of the heartland of America.  Like neighboring Kansas, Dust Bowl conditions are going to be an increasing concern, and so it will probably be best to avoid Nebraska unless necessary.
Nevada – Las Vegas dominates the region, and much of the rest of the state is a giant desert.  It is not a bad place overall, but the lack of water in the state is a major concern.  Someday the population of Las Vegas will need to be greatly reduced due to a lack of water, and the same thing will probably be true for other cities as well.
New Hampshire – Once you get away from the major population centers, New Hampshire is actually quite lovely.  And the population tends to be less liberal than New England as a whole.  But without a doubt it gets bitterly cold in the winter, and there aren't many employment opportunities in the rural areas.
New Jersey – It wants to be known as "the garden state", but most of us know it as "the armpit of America".  It is overcrowded, the government is a giant mess, and crime is out of control.  Camden is a microcosm for what is happening to America as a whole, and it is not a pretty picture.  You will want to avoid New Jersey if at all possible.
New Mexico – The state can be summed up in three "D's" – drought, drugs and decay.  The liberals are rapidly taking over here, and the consequences are quite predictable.  And as Dust Bowl conditions intensify, it will not be a place that anyone wants to be.
New York – The state isn't all bad.  Yes, New York City is the epicenter for so much that is wrong with our society, but many areas of upstate New York are quite nice.  I would definitely stay north of Interstate 90, and I would focus on rural communities that have easy access to fresh water.
North Carolina – There are some very good reasons why so many people are moving to North Carolina.  The weather is moderate, the economy has been doing relatively well, there are plenty of open spaces, and the scenery is absolutely gorgeous.  Just stay away from the coastline and the major population centers and you will probably be just fine.
North Dakota – Nestled between Minnesota and Montana, this is a state that is for extremely hearty individuals.  But if you can stand the cold and the snow, you will find that this is actually one of the most freedom-loving states in the entire nation, and it has an abundance of natural resources.
Ohio – Cleveland is a nightmare, Cincinnati is not much better, but Columbus is actually fairly nice.  It is technically considered to be part of the New Madrid fault zone, so that is a huge negative, but it does get plenty of rain and it has easy access to lots of fresh water resources.
Oklahoma – This is a state that can never seem to get a break.  It was doing a lot better in recent years, but now Dust Bowl conditions are starting to return once again.  It is also in the very heart of "tornado alley", and that is a huge factor working against it as well.  I wish that I could commend some area of the state but I really can't.
Oregon – Much of western Oregon is very similar to California (or worse), but once you get east of Interstate 5 you will start running into a lot of good people.  Some areas of eastern Oregon are actually quite magnificent, and there are lots of high quality small towns if you need a place to hide.
Pennsylvania – Pittsburgh is to be avoided and Philly is a nightmare, but much of the rest of the state is actually very nice.  I would just try to stay away from the major population centers and focus my search on rural communities with each access to fresh water.
Rhode Island – I was actually born in Rhode Island, but that doesn't mean that I am going to commend it to anyone.  It is our smallest state, and so there isn't a lot of room to get away from the major population centers.  Unless you must be there, it is probably best to find somewhere else to live.
South Carolina – Many of the positives that can be said for North Carolina can also be said for South Carolina.  Just make sure that you are far, far away from the coast and from the major population centers and you will probably be just fine.
South Dakota – I actually like South Dakota more than North Dakota.  The weather is not quite as bitterly cold, the economy is a little more vibrant thanks to the tourists, and Rapid City and Sioux Falls are both decent.  It is far enough north that the drought is not affecting it too much so far, although that could change at any time.
Tennessee – You will want to stay away from Memphis and the west end of the state entirely.  If you are considering moving there, you will want to look at Knoxville and the Smoky Mountains to the east.  That whole region is teeming with natural resources and has a very low population density.
Texas – There are a lot of wonderful conservative people in Texas, but incoming transplants from California are trying to change things as rapidly as possible.  The major cities are way too overcrowded, crime is increasing due to illegal immigration and the drought is becoming a major problem.  But millions of good people love Texas, and it is easy to understand why.  It has got a great culture, and there are so many good communities down there.
Utah – The south is being heavily affected by the drought, and so that is a major concern.  Up north, Salt Lake City is doing quite well, but if you aren't a Mormon you may find it difficult to fit in.  As with all of these states, I would strongly recommend visiting before making a permanent decision to move there.
Vermont – So many of the exact same things that were said about New Hampshire could also be said about Vermont.  I would be half-tempted to move there myself for the great natural beauty, but unfortunately the liberals are making a complete mess of the state.
Virginia – I received my undergraduate degree from the University of Virginia, and I must admit that Charlottesville is one of my all-time favorite places in the entire country.  Unfortunately, Charlottesville's good name has been dragged through the mud, and that is a terrible shame.  For the years ahead, I would want to be as far away from D.C. and Richmond as possible, and so I would focus on Roanoke and points west of there.
Washington – The western half of the state is dominated by the liberal bastion of Seattle, and the eastern half of the state is dominated by "Spo-caine".  Trust me, you don't want to cheap out on a hotel when you are staying in "Spo-caine" because you could end up in a drug-infested hellhole that doesn't look like it has had any maintenance for 20 years.  Yes, there are some areas of northeastern Washington that are very good, but you will want to choose your community carefully.
West Virginia – If West Virginia did not have such crippling poverty and was not one of the national epicenters for our exploding opioid crisis, I am sure that we would be able to say some really good things about the state.  Unfortunately, the state just seems to spiral further and further downhill with each passing year.
Wisconsin – Most of the liberals are either in Madison or in Milwaukee, and so finding a spot up north would definitely be preferable.  Once again, it is bitterly cold in this state for much of the year, but if you can handle that a rural community in Wisconsin with easy access to fresh water is not a horrible choice.
Wyoming – There is so much good that can be said for Wyoming.  It is very conservative, the population density is extremely low, there is no state income tax, and there is so much great natural beauty. But it is very, very windy there.  The wind never seems to stop and it cuts through you like a knife, and this is particularly agonizing during the winter.
Michael Snyder is a nationally syndicated writer, media personality and political activist. He is the author of four books including The Beginning Of The End and Living A Life That Really Matters.