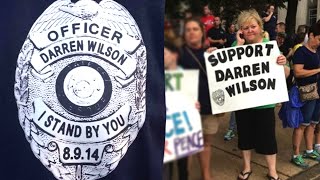 While the nation is watching and hearing the angry protests in support of black shooting victim Michael Brown, a different kind of support is being voiced for the white police officer who fatally shot the unarmed teenager.
In a first account of its kind, a caller to Radio America's "The Dana Show," who identified herself only as Josie, told listeners a detailed account of Officer Darren Wilson's side. A source with detailed knowledge of the investigation told CNN it accurately matched what the officer has told investigators.
"He said all of a sudden, he just started to bum rush him," she said. "He just started coming at him full speed, and so he just started shooting and he just kept coming."
"I can even say without speaking to Darren, without even having heard his statements, that at that moment in time, he was scared for his life, I am 100% positive of that," Wilson's longtime high school friend Jake Shepard told CNN.
(Read the rest of the story here…)