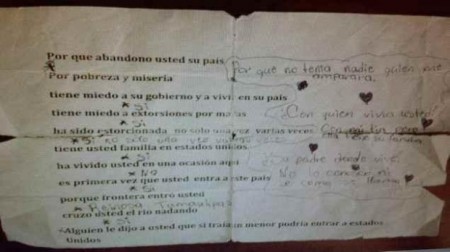 U.S. law enforcement officials have been finding "cheat sheets" along the border used by illegal immigrants to try to stay in the United States and not get deported after they've been caught.
The notes, believed to be supplied by human trafficking groups, give pointers in Spanish on what immigrants should say when confronted by border authorities.
One federal law enforcement official dubbed them "illegal alien cheat sheets."
A copy of one sheet obtained by TheBlaze lists a series of questions that U.S. authorities will consider in granting someone an immigration hearing.
"It's proof they are told what to say," a Department of Homeland Security official told TheBlaze. Often times, the sheets get "destroyed or thrown away before illegal aliens are apprehended."
(Read the rest of the story here…)
"The United States is giving us a great opportunity because now, with this new law, we don't have to try to cross the desert where so many people die. We can hand ourselves over directly to the authorities," Gladys said, adding that she hopes to become a doctor.
The smiling teenager with long black hair said she was more excited about seeing her mother again than she was scared about the trip. Her mother said she was aware of the dangers but finally decided the risk was worth it after five years apart.
Reached by phone at home, the mother said she decided to send for her daughter because "if she gets across she can stay here, that's what you hear."
"Now they say that all children need to do is hand themselves over to the Border Patrol," said the mother, who declined to provide her name because she is in the U.S. illegally.
(Read the rest of the story here…)
Standing on the American bank of the Rio Grande in Hidalgo County, Texas, 31-year-old Velma Santos told U.S. Border Patrol officers she did not know what to expect when she first set foot on American soil – only that now her two daughters would be able to go to an American school.
"People told me, they said if you go to the United States, your children can go to school," she told CNSNews.com.
(Read the rest of the story here…)
Ninety percent of the mostly-teen illegal immigrants flooding over the Mexico-U.S. border won't show up for their immigration court hearing, meaning at least 135,000 of the youths will simply vanish into the country this year alone, according to a key House committee chairman.
House Judiciary Chairman Rep. Bob Goodlatte, who on Wednesday held a hearing to raise national security concerns about the new wave of illegals, revealed Thursday that many of the teens are placed with relatives, including parents who are in the U.S. illegally, and then ignore court orders to appear for immigration hearings.
Once they are picked up by immigration officials, "they are given a court date, expected to return, a year or more later," said the Virginia lawmaker. "The overwhelming majority of them, more than 90 percent, do not return for their hearings and as a result we have a problem," he added.
(Read the rest of the story here…)