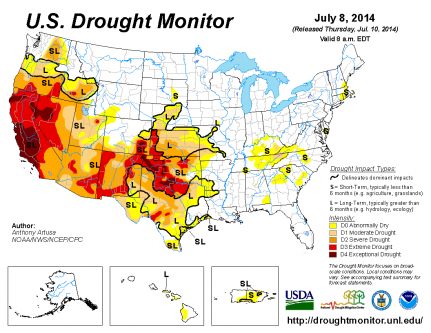 When scientists start using phrases such as "the worst drought" and "as bad as you can imagine" to describe what is going on in the western half of the country, you know that things are bad. Thanks to an epic drought that never seems to end, we are witnessing the beginning of a water crisis that most people never even dreamed was possible in this day and age. The state of California is getting ready to ban people from watering their lawns and washing their cars, but if this drought persists we will eventually see far more extreme water conservation measures than that. And the fact that nearly half of all of the produce in America comes out of the state of California means that ultimately this drought is going to deeply affect all of us. Food prices have already been rising at an alarming rate, and the longer this drought goes on the higher they will go. Let us hope and pray that this drought is permanently broken at some point, because otherwise we could very well be entering an era of extreme water rationing, gigantic dust storms and crippling food prices. The following are 20 signs that the epic drought in the western half of the United States is starting to become apocalyptic…
#1 According to the Los Angeles Times, downtown Los Angeles is now the driest that it has been since records began being kept all the way back in 1877.
#2 The California State Water Resources Control Board says that nearly 50 communities are already on the verge of running out of water.
#3 In a desperate attempt to conserve water, the state of California is considering banning watering lawns and washing cars. Once implemented, violators will be slapped with a $500 fine for each offense.
#4 It has been reported that a new social media phenomenon known as "drought shaming" has begun in California. People are taking videos and photos of their neighbors wasting water and posting them to Facebook and Twitter.
#5 Climate scientist Tim Barnett says that the water situation in Las Vegas "is as bad as you can imagine", and he believes that unless the city "can find a way to get more water from somewhere" it will soon be "out of business".
#6 The water level in Lake Mead has now fallen to the lowest level since 1937, and it continues to drop at a frightening pace. You can see some incredible photos of what has happened to Lake Mead right here.
(Read the rest of the story here…)