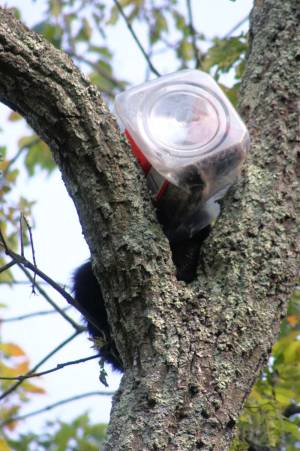 A 6-month-old black bear cub got into a sticky situation Friday when, in what smacked of Winnie the Pooh's honey jar escapades, he got his head stuck in a jar and had to be rescued from 40 feet up in a tree.
The scene was not the Hundred Acre Woods but Lake Riconda Drive where the 28-pound bruin tested the skills of rescuers as he became wedged in a tree, his head stuck in a large animal-crackers jar that had been tossed out in the trash.
"It was an oversized animal cracker jar. We suspect he got it from a neighbor's trash container. We did find trash on the ground," said Larry Ragonese, spokesman for the state Department of Environmental Protection (DEP).
"He was trying to eat what remained in the jar and pulled the jar over his head," Ragonese continued. "He got spooked and went up into the tree."
(Read the rest of the story here…)