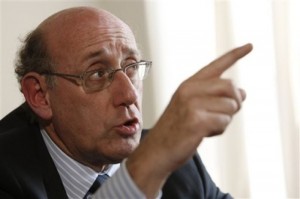 The most important news for Thursday, October 22nd, 2009…..
Don't worry, this isn't socialism – Barack Obama's "pay czar" has decided to cut the salaries of 25 executives at seven firms that have received federal bailout money.
62% of respondents to a new ABC News/Washington Post survey say that they will probably not get the swine flu vaccine.
The Swedish Medical Products Agency is investigating whether the swine flu vaccine was responsible for one patient's death.
Now the U.S. federal government is even using children's television to promote the swine flu vaccine. 
U.S. Representative Greg Walden, a Republican from Oregon, has been confirmed to have contracted the H1N1 swine flu virus.
Did Israeli and Iranian officials secretly meet in Cairo last month to discuss regional nuclear issues?
House Majority Leader Steny Hoyer claims that the Constitution's "general welfare" clause empowers Congress to be able to force Americans to buy health insurance.
How bad are things getting in Washington?  Now the Democrats have even gone so far as to change the locks to keep Republicans out of House committee rooms.
7 months after the "stimulus package", 49 out of the 50 states have lost jobs.
Will Tony Blair be made the very first "EU president" next month?
Leaders of more than 400,000 Anglicans who quit that church due to the controversy over women priests plan to seek immediate unity with Rome under the apostolic constitution announced by Pope Benedict.
A 4 year drought has pushed 23 million Africans to the brink of starvation.
Mexico City is now known as "the murder capital of the world".
China's push for oil in Gulf of Mexico is putting the U.S. in an awkward spot.
A new book is claiming that Henry Paulson, while he was U.S. Treasury Secretary, held a meeting in Moscow with Goldman Sachs's board during which he revealed sensitive details of forthcoming government policy.
A young black woman who claimed that she was kidnapped, raped and tortured by seven white people in a racial attack that shocked America now says that she made it all up.
Even major newspapers in the U.K. are shocked by how far culture and civility have declined in the U.K.
Lastly, it turns out that Planned Parenthood personnel are actually teaching sex education classes in Cleveland public schools.