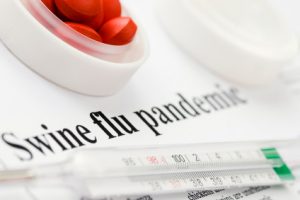 The most important news for Wednesday, October 21st, 2009…..
972 students at one high school in the Chicago area are sick with flu-like symptoms, and the school is being shut down until Monday at the earliest in an attempt to stop the spread of the flu.
A shocking report in the National Law Journal reveals that employers across the United States are asking their lawyers if they can make it mandatory for their workers to take the H1N1 swine flu vaccine.
German Chancellor Angela Merkel is in the middle of a major swine flu vaccine controversy after it was revealed that one swine flu vaccine will be given to German soldiers, policemen, and government officials while another swine flu vaccine will be given to the general population.
The CDC says that half of those hospitalized with the new H1N1 swine flu virus are under the age of 25.
Turkeys on an unidentified farm in Ontario, Canada have been confirmed to have contracted the H1N1 swine flu virus.
It turns out that the pharmaceutical industry is making huge profits from this swine flu pandemic scare.
Commentator Bill Sardi is wondering why health authorities are being so evasive in answering questions about this year's swine flu vaccination campaign.
The Gardasil vaccine is now being recommended for eligible boys between the ages of 9 to 18 in the Vaccines For Children program.
Iran has agreed "in principle" to a process that will put about 80 percent of their existing enriched uranium supplies beyond military use.
Will the Copenhagen Climate Treaty be one huge step towards a global government?
European officials are extremely concerned about the very rapid decline of the dollar.
Is Barack Obama purposely choosing decline for America?
If Barack Obama's father was born in 1936, then how could his father have served in World War II as he has claimed?
Before leaving office, President Bush signed a law which allows the federal government to screen the DNA of all newborn babies born in the U.S. even without the consent of the parents.
A frightened police officer in the U.K. contacted British UFO experts after seeing three aliens examining a freshly made crop circle near Avebury, Wiltshire.
The director of the epic Hollywood disaster movie 2012 is admitting that he is more than a little frightened of what may happen that year.
Lastly, there is one cartoon that all Americans should watch before they sign on to the socialist agenda that Barack Obama is trying to push.