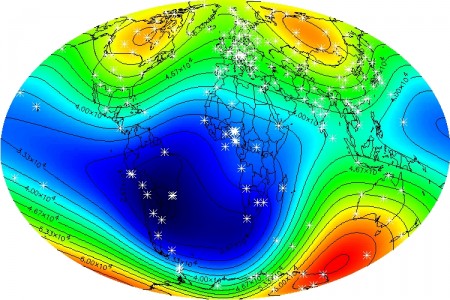 Earth's magnetic field, which protects the planet from huge blasts of deadly solar radiation, has been weakening over the past six months, according to data collected by a European Space Agency (ESA) satellite array called Swarm.
The biggest weak spots in the magnetic field — which extends 370,000 miles (600,000 kilometers) above the planet's surface — have sprung up over the Western Hemisphere, while the field has strengthened over areas like the southern Indian Ocean, according to the magnetometers onboard the Swarm satellites — three separate satellites floating in tandem.
The scientists who conducted the study are still unsure why the magnetic field is weakening, but one likely reason is that Earth's magnetic poles are getting ready to flip, said Rune Floberghagen, the ESA's Swarm mission manager. In fact, the data suggest magnetic north is moving toward Siberia.
(Read the rest of the story here…)