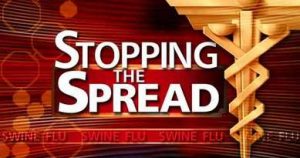 The most important news for Friday, November 13th, 2009…..
The latest numbers out of Ukraine indicate that over 65,000 people have been hospitalized for the mystery flu, and 239 people are reported to be dead.  The continual refusal of the WHO to release the sequences from the samples taken from patients in Ukraine is raising concerns that the H1N1 virus may have mutated.
According to the CDC, the H1N1 swine flu was contracted by about 22 million Americans from April to October, killing an estimated 3,900 people – including 540 children.  Considering that health authorities tell us that the normal seasonal flu kills about 36,000 people in the U.S. every year, is this really something to be so fearful about?
A sudden spike in H1N1 deaths over the past week in Canada is raising fears that the pandemic virus is taking a far greater toll on Canadians during the "second wave" of this crisis.
According to one scientific study, the 1918 Spanish flu virus that killed between 50 and 100 million around the globe originally developed in birds and is very similar to the "bird flu" that so many are concerned may combine with the H1N1 swine flu at some point.
Another study has found that found children who received a flu vaccine had a three times greater risk of hospitalization for the flu than kids who were not vaccinated.
A young woman in France has been diagnosed with Guillain-Barre Syndrome after taking the H1N1 swine flu vaccine.
The Chicago Tribune is reporting that some pregnant women are shunning the H1N1 swine flu vaccine.
Federal prosecutors took steps on Thursday to seize four U.S. mosques and a Fifth Avenue skyscraper in New York City owned by a "nonprofit" Muslim organization suspected of being secretly controlled by the Iranian government.
Suicide car bombers killed 16 people and wounded more than 80 in two devastating attacks in northwestern Pakistan on Friday, including a massive strike on the regional headquarters of the Pakistani ISI.
According to one major U.K. newspaper, the U.S. is spending millions of dollars in Afghanistan to ensure that its supply convoys get through – and it is the Taliban who profit.
Mexico's business leaders have asked the United Nations to deploy peacekeepers just yards from the American border to help stem the rampant drug violence there.
Sarah Palin is back in the public eye.  She will be making a highly anticipated appearance on the Oprah Winfrey show on Monday.
Alstonville High School has announced that it will introduce "a finger recognition system" for its students next year for increased "security".
A widely known Northern California environmentalist says that "the industrial economy needs to be stopped".
Lynn Stuter is asking this question about Barack Obama: Are You Angry Yet?
Lastly, has the decline of the United States gone too far to be reversed?  The following article asks that question: 18 Signs That America May Be Too Stupid To Continue As A Nation.