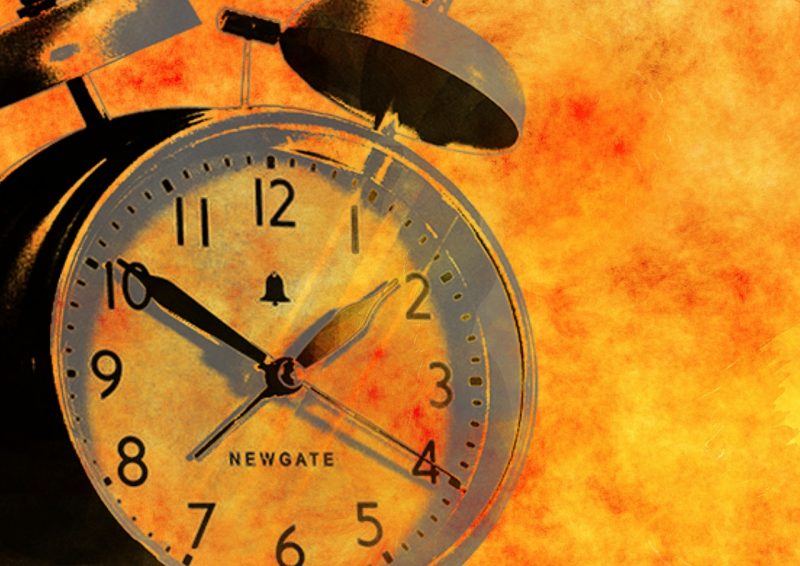 Even some of our brightest scientific minds are projecting that there is absolutely no positive future for our civilization if we stay on our current course.  Perhaps one of the reasons why our society has become so obsessed with short-term results is because most of us can't bear to think about the long-term consequences of our actions.  I have a website that focuses on "economic collapse", but it isn't just the economy that is headed for catastrophe.  Virtually every aspect of our society is coming apart at the seams all around us, and the era that we are moving into will be more nightmarish than most people would dare to imagine.  But our political leaders continue to insist that everything is going to work out just fine somehow, and most people choose to believe them.
This week, an old MIT study from 1972 that projected that our civilization will collapse at some point during the 21st century made headlines on several major news sites…
In 1972, a team of MIT scientists got together to study the risks of civilizational collapse. Their system dynamics model published by the Club of Rome identified impending 'limits to growth' (LtG) that meant industrial civilization was on track to collapse sometime within the 21st century, due to overexploitation of planetary resources.
In particular, the study identified a period of time "around 2040" when societal collapse would be very likely…
The study was published in the Yale Journal of Industrial Ecology in November 2020 and is available on the KPMG website. It concludes that the current business-as-usual trajectory of global civilization is heading toward the terminal decline of economic growth within the coming decade—and at worst, could trigger societal collapse by around 2040.
Of course events are not going to transpire exactly as they foresaw, but as far as the big picture is concerned they were right on the money.
Our society is now in the process of collapsing all around us, and you can see evidence of this everywhere that you look.
This week, civil unrest is causing widespread chaos in the streets in Cuba, South Africa, Beirut and Paris.  We have entered a period of time when it seems like people are perpetually angry, and the wild scenes that are playing out around the globe are absolutely shocking.
Here in the United States, we are in the midst of a crazy crime wave.  Murder rates in our major cities rose by an average of 30 percent in 2020, and they are up another 24 percent so far in 2021.  Extreme violence has become a way of life in many of our largest metropolitan areas, and this is particularly true in the city of Chicago…
A Chicago rapper died after suffering as many as 64 bullet wounds to his head and other parts of his body in what police are calling an ambush shooting just as he was released from jail.

Londre Sylvester, 31, who is known by his stage name KTS Dre, was one of three people who were shot just outside Cook County Jail in the Little Village section of Chicago on Saturday.
Chicago police seem powerless to stop the endless violence, but of course the same could be said about many other police departments around the country.
The streets of our biggest cities are becoming war zones, and what we have experienced so far is just the beginning.
Meanwhile, we are dealing with the worst epidemic of illegal drugs in our history.  If you can believe it, drug overdose deaths were up nearly 30 percent last year…
Drug-overdose deaths in the U.S. surged nearly 30% in 2020, the tragic result of a deadlier supply and the destabilizing effects of the Covid-19 pandemic, according to preliminary federal data and public health officials.

The estimated 93,331 deaths from drug overdoses last year, a record high, represent the sharpest annual increase in at least three decades, and compare with an estimated toll of 72,151 deaths in 2019, according to provisional overdose-drug data released Wednesday by the Centers for Disease Control and Prevention.
Drug overdose deaths were already at an all-time high coming into 2020.
So for the number of deaths to rise 30 percent above that level in just one year is really, really tragic.
At the same time, our system of public education continues to rapidly deteriorate.
Earlier today, I was shocked to learn that 41 percent of all high school students in Baltimore have a grade point average that is below 1.0…
Project Baltimore obtained a chart assembled by Baltimore City Schools. The chart shows the average GPA for every high school grade in the city – freshman through senior. In the first three quarters of this past school year, according to the chart, 41% of all Baltimore City high school students, earned below a 1.0 grade point average. In other words, nearly half of the 20,500 public high school students in Baltimore earned less than a D average.

"It's heartbreaking," said Patterson. "If almost half of our kids are failing, what options do they have after high school? This is really disheartening. It's sad to see this."
I don't just want to single out Baltimore, because that isn't fair.
All across this once great country of ours, public schools are completely and utterly failing our kids.  The vast majority of our high school graduates cannot read, write or speak coherently, and that simply should not be happening in the wealthiest nation on the entire planet.
Switching gears, authorities up in Canada are dealing with a different form of social decay.  For years, I have been warning that Christians in the western world would soon face the same sort of extreme persecution that Christians in other parts of the globe are forced to endure, and now it is starting to happen.
In recent weeks, individuals that are apparently motivated by a deep hatred for Christians have been setting churches on fire all over Canada…
Terrorists are attacking and burning down churches across Canada with impunity.

It's a reality most Canadians only thought possible for Middle Eastern countries like Syria, where ISIS has bombarded and razed dozens of Christian heritage sites in the name of Islam.
We haven't seen anything quite like this before.  According to Keean Bexte, a total of 45 Canadian churches have been burned just since the beginning of June…
The Counter Signal has kept a close eye on these terrorist attacks, reporting on the scene just hours after a fire in a refugee church.

Our information shows that since June, there have been 45 attacks on Christian and mainly Roman Catholic congregations. Of those, 17 of them have been scorched or burnt to a crisp in suspicious circumstances.
The corporate media should accept responsibility for their role in provoking these attacks.
For years, the corporate media has been relentlessly demonizing conservative Christians, and churches are the most visible symbols of conservative Christian culture in our society.
As the corporate media continues to blame conservative Christians for society's ills, it is inevitable that there will be more attacks on churches in the future.
But of course there will be more violence everywhere around us as our society continues to steadily unravel.
I have never seen as much anger, frustration and hate as I am seeing right now, and there is no future for a society in which virtually everyone is filled with rage.
The years ahead are going to be extremely chaotic, and I would suggest that you plan accordingly.
***Michael's new book entitled "Lost Prophecies Of The Future Of America" is now available in paperback and for the Kindle on Amazon.***
About the Author: My name is Michael Snyder and my brand new book entitled "Lost Prophecies Of The Future Of America" is now available on Amazon.com.  In addition to my new book, I have written four others that are available on Amazon.com including The Beginning Of The End, Get Prepared Now, and Living A Life That Really Matters. (#CommissionsEarned)  By purchasing the books you help to support the work that my wife and I are doing, and by giving it to others you help to multiply the impact that we are having on people all over the globe.  I have published thousands of articles on The Economic Collapse Blog, End Of The American Dream and The Most Important News, and the articles that I publish on those sites are republished on dozens of other prominent websites all over the globe.  I always freely and happily allow others to republish my articles on their own websites, but I also ask that they include this "About the Author" section with each article.  The material contained in this article is for general information purposes only, and readers should consult licensed professionals before making any legal, business, financial or health decisions.  I encourage you to follow me on social media on Facebook, Twitter and Parler, and any way that you can share these articles with others is a great help.  During these very challenging times, people will need hope more than ever before, and it is our goal to share the gospel of Jesus Christ with as many people as we possibly can.