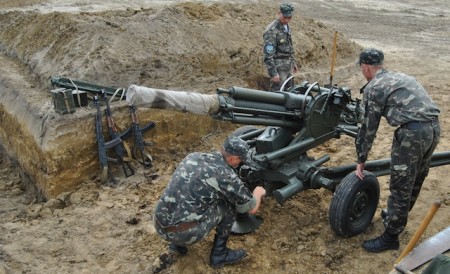 Ukraine's National Guard has resumed massive shelling of a settlement near the eastern Ukrainian city of Slavyansk on Saturday. "Bombing alarm sirens are switched on in the city," a self-defense representative told Itar-Tass. Meanwhile, automatic rifle fire can be heard in Semyonovka and the Krasny Liman settlement on a highway to the eastern city of Kharkov, the representative added.
The shelling of Semyonovka from Mount Karachun resumed again on Friday evening. "An intensive fire from mortars and howitzers" lasted several hours, the people's self-defense representative said. However, reports of casualties and destroyed buildings in this settlement are not yet available, because no one was permitted to enter the area under continuing gunfire.
The city center also came under gunfire overnight to Saturday. A fodder-producing plant has been shelled, Stella Khorosheva, said spokesperson for Slavyansk People's Mayor Vyacheslav Ponomarev.
(Read the rest of the story here…)