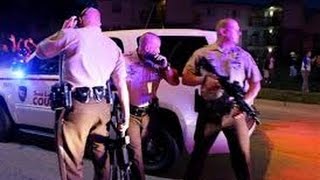 A 'mysterious' militia group that appeared on rooftop patrols in Ferguson pledging to protect private property has been ordered to stand down.
Oath Keepers, a vigilante organization consisting of former and current military, police and firefighters, abandoned their posts on Saturday night after being threatened with arrest.
Equipped with militia-style clothing and firearms, the Oath Keepers had been offering free security for businesses at risk of looting and arson in Ferguson.
They took up positions on rooftops after the St Louis suburb erupted in an orgy of violence and destruction following the grand jury decision not to indict Darren Wilson, the white police officer who shot dead 18-year-old Michael Brown.
(Read the rest of the story here…)