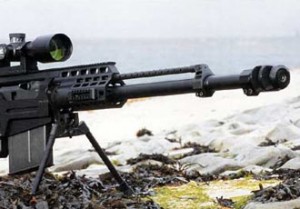 Shots rang out Friday night in Rincon Peninsula, Texas, forcing U.S. border patrol agents to take cover. The shots originated from south of the Rio Grande River and according to Border Patrol sources they came from a high-powered .50 caliber rifle.
Based on what agents witnessed next, according to Texas State Representative Louie Gohmert, this wasn't just random fire.
"When the shooting stopped, about 40 to 50 people came out on the U.S. side and turned themselves in. So clearly the rounds were being fired to suppress every effort to stop anybody intervening with anyone or anything coming across," Gohmert added. "We have no idea what or how many or whom came across with the other illegal immigrants."

Sources said they believe the gunfire came from members of Mexican drug cartels, which include former military members trained in shooting that type of weaponry.

Border Patrol sources said the rounds were clearly identifiable because .50- caliber weapons make a distinctive noise when fired. Sources said they also believe this is the first time that Border Patrol agents have taken direct fire from the Mexican side of the river in this area.

"I don't know why we're out here like sitting ducks," one Border Patrol source said. "We need help."
The shooting has prompted fears that Mexican drug cartels, known to be extremely dangerous and responsible for over 75,000 deaths in the drug war that has plagued the country for the last seven years, are now bringing their brand of violence into the United States via the unsecured 3000-mile southern border.
(Read the rest of the story here…)