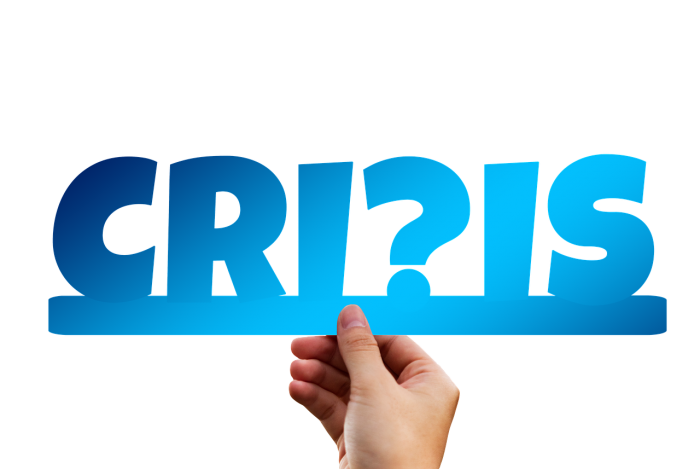 It's not over. The worst October stock market crash since 2008 got even worse on Friday. The Dow was down another 296 points, the S&P 500 briefly dipped into correction territory, and it was another bloodbath for tech stocks. On Wednesday, I warned that there would be a bounce, and we saw that happen on Thursday. But the bounce didn't extend into Friday. Instead, we witnessed another wave of panic selling, and that has many investors extremely concerned about what will happen next week. Overall, global stocks have now fallen for five weeks in a row, and during that time more than 8 trillion dollars in global wealth has been wiped out. That is the fastest plunge in global stock market wealth since the collapse of Lehman Brothers, and it is yet another confirmation that a major turning point has arrived.
The wild swings up and down that we witnessed this week are very reminiscent of what we saw in 2008.
Markets just don't go down in a straight line. In fact, some of the best days in all of Wall Street history happened right in the middle of the last financial crisis.
When markets are very volatile, the overall trend tends to be down. So what investors should be hoping for are extremely boring days on Wall Street when not much happens. That has been the usual state of affairs for much of the past decade, but now volatility has returned with a vengeance. The following is how CNBC summarized the carnage that we witnessed on Friday…
The Dow Jones Industrial Average closed 296.24 points lower at 24,688.31 after dropping 539 points at its lows of the day. The Nasdaq Composite dropped 2.1 percent to 7,167.21. At its lows, the tech-heavy Nasdaq had fallen more than 3 percent.

The S&P 500 fell 1.7 percent to 2,658.69 and briefly entered into correction territory, trading more than 10 percent below its record high reached in September. The average stock market correction, since WWII, results in a 13 percent drop and lasts for four months if it does not turn into a full-fledged bear market.

Larry Benedict, CEO of The Opportunistic Trader, said traders "don't want to be long heading into the weekend." He added, "S&P now down on the year and people are more afraid to be long today than they were when market was 10 percent higher."
And when you step back and take a longer-term view of things, the devastation is breathtaking. The following facts come from Zero Hedge…
Dow down 9% from record high (down 4 of last 5 weeks)
S&P down 10.1% from record high (down 4 of last 5 weeks)
Nasdaq down 13% from record high (down 4 weeks in a row)
Dow Transports down 15.2% from record high (down 6 weeks in a row)
Small Caps down 15.8% from record high (down 6 weeks in a row)
More importantly, global systemically important bank stocks have now fallen for 5 weeks in a row, and they have now plunged more than 30 percent from the peak.
In other words, the "too big to fail banks" around the world have already seen almost a third of their value wiped out.
There are quite a few global candidates that could potentially become "the next Lehman Brothers", and once one "too big to fail bank" goes down, it could escalate this new financial crisis very rapidly.
But for most ordinary Americans, the main concern is about keeping their own money safe. Thanks to low returns almost everywhere else, more retirement money is in the stock market than ever before, and many Americans are very anxious about what a stock market crash would mean for their savings…
Nearly 40 percent of Americans said they were "anxious" about stock market volatility, according to Allianz Life's 2018 Market Perceptions study, mainly because they worried they would not be able to protect their retirement savings.
In the end, a lot of people are going to get completely wiped out.
Hopefully you will not be one of them.
Of course the mainstream media continues to insist that everything is going to be just fine. In fact, CNN is telling people that now is "a good time for investors to double down on their investments"…
Experts say big sell-offs are often a good time for investors to double down on their investments. One recommended looking for companies that are expected to post healthy gains in sales and earnings. A strong balance sheet and a steadily growing dividend don't hurt either.

"With earnings season in full force, this is when stock pickers can add a lot of value," said Ernesto Ramos, managing director of active equities with BMO Global Asset Management. "There really was no good reason for the market to be down as much as it was Wednesday."
That is about the exact opposite from the advice that they should be giving, but unfortunately this is the narrative that we get from the corporate media before every major crisis.
October has historically been the most volatile month for stocks, and without a doubt this has been a wild month. Of course the midterm elections are coming up early next month, and those results could potentially spook investors. But once we get past that, hopefully the markets will start to settle down.
But if things continue to unfold as they did in 2008, this crisis could continue to escalate during the months ahead, and that would especially be true if some sort of "trigger event" sent a major surge of panic through the marketplace.
At this point, investors are extremely jumpy. For example, even though Amazon reported very good earnings this week, the stock crashed on Friday because revenue growth was slightly below expectations.
Any piece of bad news could send the markets tumbling right now, and if a major disaster were to happen we could be talking about a total collapse.
About the author: Michael Snyder is a nationally syndicated writer, media personality and political activist. He is publisher of The Most Important News and the author of four books including The Beginning Of The End and Living A Life That Really Matters.
The Last Days Warrior Summit is the premier online event of 2018 for Christians, Conservatives and Patriots. It is a premium members-only international event that will empower and equip you with the knowledge and tools that you need as global events begin to escalate dramatically. The speaker list includes Michael Snyder, Mike Adams, Dave Daubenmire, Ray Gano, Dr. Daniel Daves, Gary Kah, Justus Knight, Doug Krieger, Lyn Leahz, Laura Maxwell and many more. Full summit access will begin on October 25th, and if you would like to register for this unprecedented event you can do so right here.