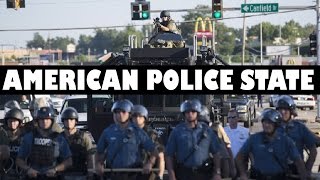 Missouri Gov. Jay Nixon declared a state of emergency and imposed a curfew in Ferguson, Mo., on Saturday, following nights of protests after 18-year-old Michael Brown was shot and killed by a police officer.
"If we're going to have justice, we must first have and maintain peace," Nixon said at a Saturday afternoon press conference. "The eyes of the world are watching."
Capt. Ron Johnson of the Missouri State Highway Patrol says the curfew will run from midnight to 5 a.m. local time Sunday and will be enforced through conversations, not tear gas and tanks.
"We will survive this and will make a change," Johnson says.
(Read the rest of the story here…)
State Highway Patrol Capt. Ron Johnson, in charge of security for the town, praised local citizens who tried to stop the looting of several businesses early Saturday. He said law enforcement would not be heavy-handed in enforcing the curfew.
"We won't enforce it with trucks, we won't enforce it with tear gas," he said.
But at least one resident was skeptical about whether the curfew would work.
"It's an intimidation thing. And you're basically suppressing people who still have questions that need answers," said Carissa McGraw, who has joined protests throughout the week. "You have people who — at this point — do not care what authorities say right now."
(Read the rest of the story here…)